You have a great business idea and want to

change the world

?

You want to start own business and

need the skills

 how to do it?

You are tired of working for others 8-10 hours a day?
Then join the Start-Up Black Belt program and live your dream NOW!
Here is a roadmap to your dream business, starting from the moment you get a business idea or simply decide to launch own business and finishing with a successful start of your own company, having all the necessary business skills in place and finding the investment opportunity.
How does it work?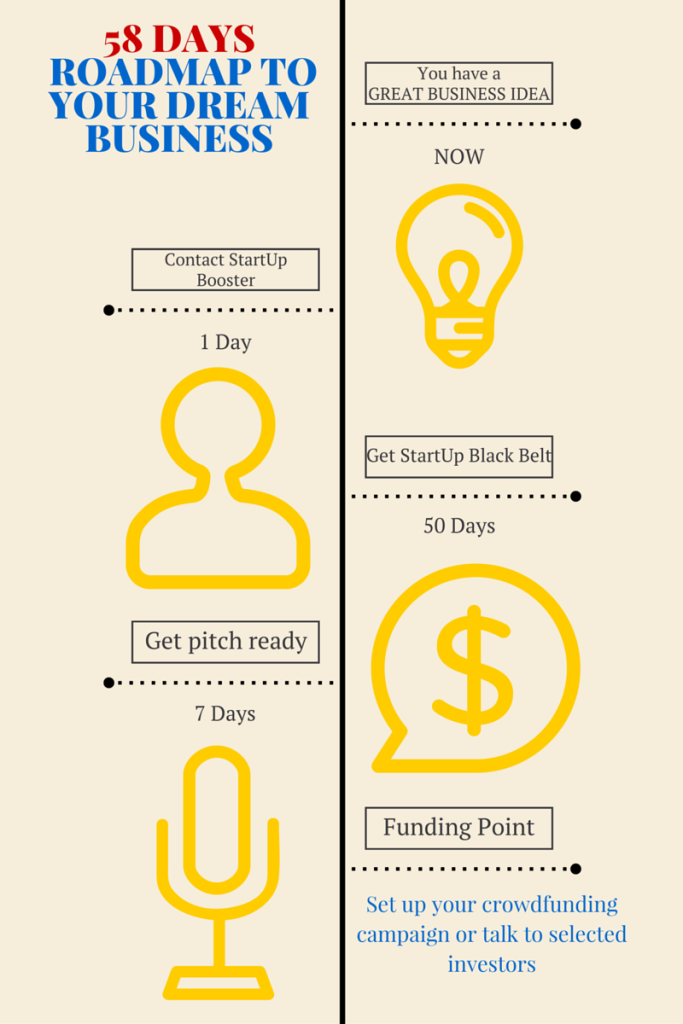 WHAT YOU GET FROM THE PROGRAM:
Opportunity to get investment for your business idea
Individual Work with You and Your Idea
Daily VIP Coaching in Start-Up Booster Unicorns Community
Practical skills to launch your own business
Ready-to-go business plan
Strategic marketing, sales and business development plan
Product concept testing plan
Fundraising pitch
What Participants Say About The Start-Up Black Belt
"Basically I got ready for opening my shop in just 50 days. I highly recommend everyone who wants to start own business to participate in the Start-Up Black Belt program."

David Wood, USA
"For a long time I was dreaming to become a life coach and really didn't know what I was missing to start my business tomorrow. The program helped me to fill the gaps and really get that nudge that was missing. I have learnt a lot of practical things. Skills are the most important when you start your company. After the program I feel confident in my next steps and I have the action plan in place and all the tasks and objectives stated."

Olesja Stiel, Ireland
"Elena and Darya led me through 10 coaching sessions which helped me set clear business goals, modify my business plan, develop the marketing strategy and create the sales funnel for the fashion articles to be sold via my blog. Straight after the first session on goal setting I was given the task to identify my business goals and their relationship with my life goals. Start-Up Black Belt coaching helped me develop a clear business vision and motivated me to open the new business horizons. Each coaching session was practically oriented and resulted in a concrete business task I had to complete. This approach helped me focus on the necessary steps needed to launch my business."

Alina Amaia, Germany

How Can Start-Up Black Belt Help YOU?
Arrange a free Skype call with us if you have any questions about the program and would like to know how it can help YOU 

launch own business

 now.